Sign Your Organization in Support
Part of an organization that wants to show your support for the Iowa Green Amendment movement and become active & engaged?
At this link, organizations can sign up to be in support of the Green Amendment, we will list them on the website with a hotlink to their organization webpages.
Join the Iowa Green Amendment Action App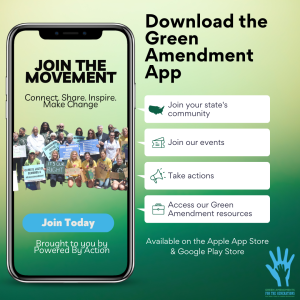 Green Amendments For The Generations has a new white label app that you can join to be up to date on all of the hot news and action opportunities.  Be sure to join the Iowa Green Amendment Movement page.  The app is brand new and so you will be part of growing its engaged use.
You can also join the national page if you want to see what other states are doing. But to be up to speed on Iowa it is important you join the Iowa community.
You can download the app to your phone from the app store by typing in Green Amendments FTG
Or you can join on your computer via the web by going to this link.
However you join, this will be the best place to stay up to date and engage.
Be sure when you sign up to set the email/push notifications to suit your life style, turn them on, turn them off or limit them.  It's easy and will ensure the best experience.
Encourage Others
Encourage others to sign the petition!
Share the link on social media, or print a copy of the petition and take it with you to work, coffee shops, social gatherings or events, and ask others to sign the petition too. Once you have a completed sheet, be sure to mail or scan and email copies to GAFTG@forthegenerations.org. You can print a copy here.
Mail paper petitions to
Green Amendments For The Generations
925 Canal Street 7th Floor, Suite 3701
Bristol, PA 19007
Write an Opinion Piece
Write an opinion piece to your local paper expressing the benefits of Iowa Green Amendment.
Help us spread the word about the Iowa Green Amendment! Let your community members know what a Green Amendment is and how it can help your community and environment.
Donate to support a Green Amendment